New Business Age

2020-03-16 11:20:12 0 267 Times Read 6 Min 47 Sec To Read
UPCYCLING : TURNING TRASH TO TREASURE
Several forward-thinking youths have found innovative ways to combat Nepal's waste management problem, and in the process, are creating unique products.
Generally, every household tries to maximise the use of any and every product. And the ultimate option after its usage is dumping them to the scrapyard. But some creative minds thought of turning this last option into the first resource of a new creation.
At a time when waste management is a major problem in the country, many eco-conscious entrepreneurs are coming up with upcycling businesses and positioning it as a creative and sustainable solution to the problem. Adding an aesthetic value, upcycling companies such as Dhaasoo, Sagarmatha Pencil Udhyog, Taalo, Upcycle Nepal, Shailee Craft, Ecoorb Ventures, Tyre Treasures, etc. have garnered a good level of attention for the emerging eco-friendly and financially rewarding business in Nepal. The companies are producing different goods such as lamps, chairs, home decor, ornaments, souvenirs, etc. They clean, cut, modify, design and decorate discarded items and waste materials to create new products.
Emerging Upcycling Trend in Different Areas
Dhaasoo began when the term 'upcycle' was not a huge part of Nepal's business landscape. Nitesh Sharma started this upcycling business as a novel job in the country in 2015. His company manufactures varieties of products such as hookahs, lamps, planters, bookshelves, desks, keyrings etc. from discarded glass bottles, cans, car parts, wires, etc.
Prior to that, two brothers, Shailesh Dhamala and Success Dhamala started Shailee Craft to upcycle the leftover bones and horns of buffaloes into different ornamental items such as buttons, pendants, earrings, souvenirs, bangles etc since 2013.
Likewise, Tyre Treasure, which was established by Ojashwi Baidya and Loonibha Manandhar in 2017, is now a major player in turning discarded tyres into aesthetic furniture and tables.
In the garment sector also, old clothes are being revived as laptop covers, wallets, keyrings, cushion covers, bags, cardholders etc by Pushpa Sthapit and Rajan Chakradhar, who established Upcycle Nepal Pvt Ltd in 2018.
Even outside the valley, waste paperis being upcycled by Sagarmatha Pencil Udhyog, a company founded by Nirmal Dahal in Jhapa in 2018. Likewise, Green Road Waste Management of Pokhara has constructed sustainable roads in Sathe, Pokhara and Nayabazar, Kirtipur from plastic wastes for the first time in Nepal. Bimal Bastola and his team of four members made it possible to transform plastic waste of noodles, chocolates, polythene etc. into durable lanes in 2018.
Different from Recycling
Upcycling entrepreneurs note that while reusing old items has long been a common trend in several households, the upcycling trend is just emerging. Rajan Chakradhar of Upcycle Nepal Pvt Ltd clarifies, "At home, people recycle the old clothes by using them for cleaning purposes but we upcycle them by turning it into a new product possessing its own value."
Treasure Tyre's Baidya also says that it takes more time, resources, effort, and energy to recycle the tyres as compared to upcycling them. She explains, "Tyres are made up of synthetic material and so they are sturdy, bouncy, and durable in nature." She explains that during the recycling process, the original quality of rubber gets degraded and distorted while extracting certain portions or breaking it down. But the quality remains the same when one upcycles them. She further says that there are no recycling plants in the country to recycle such waste.
Minimising Import
Creating value and money from waste is itself one impactful aspect of the upcycling business. Annually, Sagarmatha Pencil Udhyog made a turnover of around Rs 2.5 million by upcycling waste papers as pencils, according to the company's founder Nirmal Dahal. It manufactures over 630,000 pencils per year for its major market places – Jhapa, Morang and Sunsari. Dahal says the company collects around 3,000 kg of waste paper in a month from schools, waste paper collectors, different organisations etc. As such, the upcycling business reduces the number of waste paper that goes to the landfill.
He says, "There are more than four million pencil users in the country and thus there is a market for upcycling in our business." He believes that the upcycling business can save the country's economy from importing such items which can be manufactured here. Other entrepreneurs also express similar sentiments about domestic production through the upcycling business.
A Green and Sustainable Business
The same waste which become pollutants if thrown away are turned into meaningful and usable products through upcycling. Tyre Treasure's Baidya says that when the non-biodegradable tyres are burnt in brick kilns, they emit harmful toxic fumes and chemical smoke. Even when they are disposed of at river banks or scrapyards, they release chemicals that affect the environment. Baidya says, "Upcycling tyres is the cleaner way of managing tyres. We create handicraft, interior decors, furniture etc from tyres without cutting and breaking them as they release chemicals. We mostly use organic materials to design and develop new creations."
Green Road Waste Management's Bastola also shares that the plastic for road construction is heated to its softening point because of which harmful gases are not emitted. According to him, the same plastic makes the binding between bitumen and aggregate stronger, enhancing the road's capacity to hold more loads. Since the aggregate will have a coating of plastics and bitumen layer, it has less chance of becoming damaged by water. So, the green roads are less susceptible to developing potholes and are three times more durable than ordinary roads.
Public's Interest in Customised Goods
Upcycling companies have also become a suitable choice for customers who prefer design and art. Most upcycling companies customise their products as per the order of the customer. So, the companies keep on experimenting with new creations. At the time of writing, Dhaasoohas sold more than 600 varieties of upcycled products, each with its own unique design. He says, "Customers believe that we can make customised products. So, if they want different, unique products that fit their budget, they approach us." However, when customers cancel their orders, it results in the loss of time, raw materials, effort and creativity.
Challenges
Many upcycling entrepreneurs say that convincing people about the utilities and pricing of upcycled products is a major challenge. They realise that customers tend to compare the cost of upcycled products with the readymade imported products. They share that they have to compete with readymade products which are of low quality. Meanwhile, they are also not sure if their new upcycled products will sell or not. Baidya shares, "Though upcycled products are a bit expensive, they are reasonable considering the cost of production and the effort."
Highlighting the crisis of human resources in the sector, Sharma shares, "Upcycling is not an industry which was already there from the beginning. So, there are only a few people dedicated to the upcycling industry." He says that though the sector hires young people and provides them with training for seven months, there is no guarantee that they will be retained. Sharma focused on breaking the stereotypical career options available to people. Likewise, Bastola also shares that there are no policies encouraging investment in eco-friendly companies.
For Shailee Craft, the scope for its upcycling business is shrinking as compared to the early days. The company's founder Success Dhamala shares, "Our products are preferred mostly by spiritual people and garment industries. But these days, the number of such people is decreasing. Our products for garment industries like buttons are being replaced by imported plastic buttons which are available at cheap prices."
The Kathmandu Post
Dekhapadhi
फालिएका सामग्रीको महत्त्व बुझाउन लाग्दैछ 'एक रूपैयाँ सेल' (भिडिओसहित)
रोजिना थापा 578Shares
शनिबार राजधानीमा हुन लागेको 'एक रूपैयाँ सेल'ले काम नलाग्‍ने भनेर फालिएका जुनसुकै सामग्रीबाट पनि काम लाग्‍ने नयाँ सामान बनाउन सकिन्छ भन्‍ने जनचेतना दिने आयोजकको विश्वास छ।
काठमाडाै‌ं। युग महंगीको छ। खल्तीमा हजार, पन्ध्र सय नबोकी बजार जाँदा दुई छाक खाना पनि आउँदैन। यस्तो महंगीमा एक रूपैयाँमा पनि केही सामान पाइएला ?
पत्याउन गाह्रै पर्छ। तर, आउँदो १७ फागुन, शनिबारका दिन एक रूपैयाँको सेल लाग्ने भएको छ। ललितपुरको बखुण्डोलमा रहेको टेरिज क्याफे सिनोमा यो सेल लाग्न थालेको हो।
उक्त सेलमा चिया राख्‍ने कोस्टर, तीन प्रकारका क्याण्डल होल्डर, दुई थरी पेन होल्डर, मोबाइल होल्ड गर्न सकिने की-रिंगलगायतका सामग्री राखिनेछ। त्यस्तै वाइन ग्लास होल्डर, साबुन राख्‍ने होल्डर, गितार होल्डरलगायतका सामान पनि एक रूपैयाँमा पाइनेछ।
सेलको आयोजक संस्था 'धासु डिल्स्'का सञ्चालक नितेश शर्माका अनुसार पैसाभन्दा पनि जनचेतना जगाउनका लागि यो कार्यक्रम आयोजना गरिएको हो।
सेलमा राखिने सबै सामग्री एकपटक प्रयोगमा आइसकेका सामग्रीबाटै बनाइएको हो। प्रयोगविहीन भएका वा टुटेफुटेका सामग्रीको पुनःउपयोग सजिलै सम्भव छ भन्ने देखाउन यो कार्यक्रम आयोजना गरिएको शर्माले बताए।
"सेलमा राखिने सबै सामग्री यही समाजबाटै आएका हुन्। तिनलाई पुनः प्रयोग गर्न सकिने गरी हामी समाजमै फर्काउन चाहन्छौं", शर्माले भने।
एक रूपैयाँकै सेल लगाउनुमा पनि शर्माको आफ्नै तर्क छ। उनी एक रूपैयाँलाई पनि मूल्यवान बनाउन खोजेको बताउँछन्।
"५ वा १० रूपैयाँ त कसैले छोड्दैन। एक रूपैया त होस् भनेर छोड्छन् नि। एक रूपैयाँमा पनि सामान आउँछ भनेर सन्देश दिन खोजेको हुँ", शर्माले भने।
एक रूपैया सबै सवै वर्गका लागि लक्षित भए पनि शर्माले मुख्य रूपमा महिलाप्रति लक्षित रहेको बताए। घरमा के फाल्ने, के राख्ने भन्नेबारे ज्यादा निर्णय महिलाले नै गर्ने भएकाले उनीहरूलाई बुझाउन यस्तो कार्यक्रमको आयोजना प्रभावकारी हुने उनको ठम्याइ छ।
नितेशले 'धासू डिल्स्'मार्फत् काम नलाग्ने भएर फालिएका सवारीसाधनका पार्टपूर्जा, टायर, सीसा, काठ, फ्लेक्स, विद्युतीय फोहोर, धातूजन्य वस्तुबाट नयाँ सामग्री निर्माण गर्दै बिक्री गर्न थालेको सात वर्ष भइसकेको छ। तर, उनले ग्राहकको प्रत्यक्ष प्रतिक्रिया नपाएकाले पनि यो कार्यक्रम आयोजना गरिएको बताए।
गत वर्ष उनले अनलाइनमार्फत् यस्तै कार्यक्रम आयोजना गरेका थिए। तर, त्यसबाट खासै प्रतिक्रिया मिलेन। कतिपय ग्राहकले 'पैसा दिन्छौं, तर घरमै डेलिभरी गरिदिनुस्' भने। उनका लागि यो सिकाइ भयो। त्यसैले निर्णय गरे– एक रूपैयाँको सेल आयोजना गर्ने। त्यहाँ त ग्राहकसँग प्रत्यक्ष भेट्न पाइन्छ।
शर्मा भन्छन्, "यहाँ १०० वटा सामान बिक्यो भने मैले जम्मा कमाउने १०० रूपैयाँ नै हो। जबकि १५० देखि एक हजार रूपैयासम्म पर्ने सामान राखेका छौं। तर, मेरो सामानको मूल्य हेर्ने हो भने धेरै ठूलो रकम खर्च हुन्छ। मैले त्यही रकम विज्ञापनमा खर्च गर्दा पनि त हुन्छ। तर, त्यहाँ मैले ग्राहक भेट्दिनँ। यहाँ प्रत्यक्षरूपमा कुरा गर्न पाउँछु।"
सेलमा बिक्रेताको हातमा पैसा राखिदिनु पनि नपर्ने उनले जनाए। त्यसको लागि खुत्रुके राखिएको छ। ग्राहकले सामग्री किनेपछि त्यही खुत्रुकेमा पैसा खसाइदिन सक्छन्।
Setopati
'ज्याक ड्यानियल्स' को बोतलले फुराएको धासू आइडिया
जुना श्रेष्ठकाठमाडाैं, चैत १९ 4.2kShares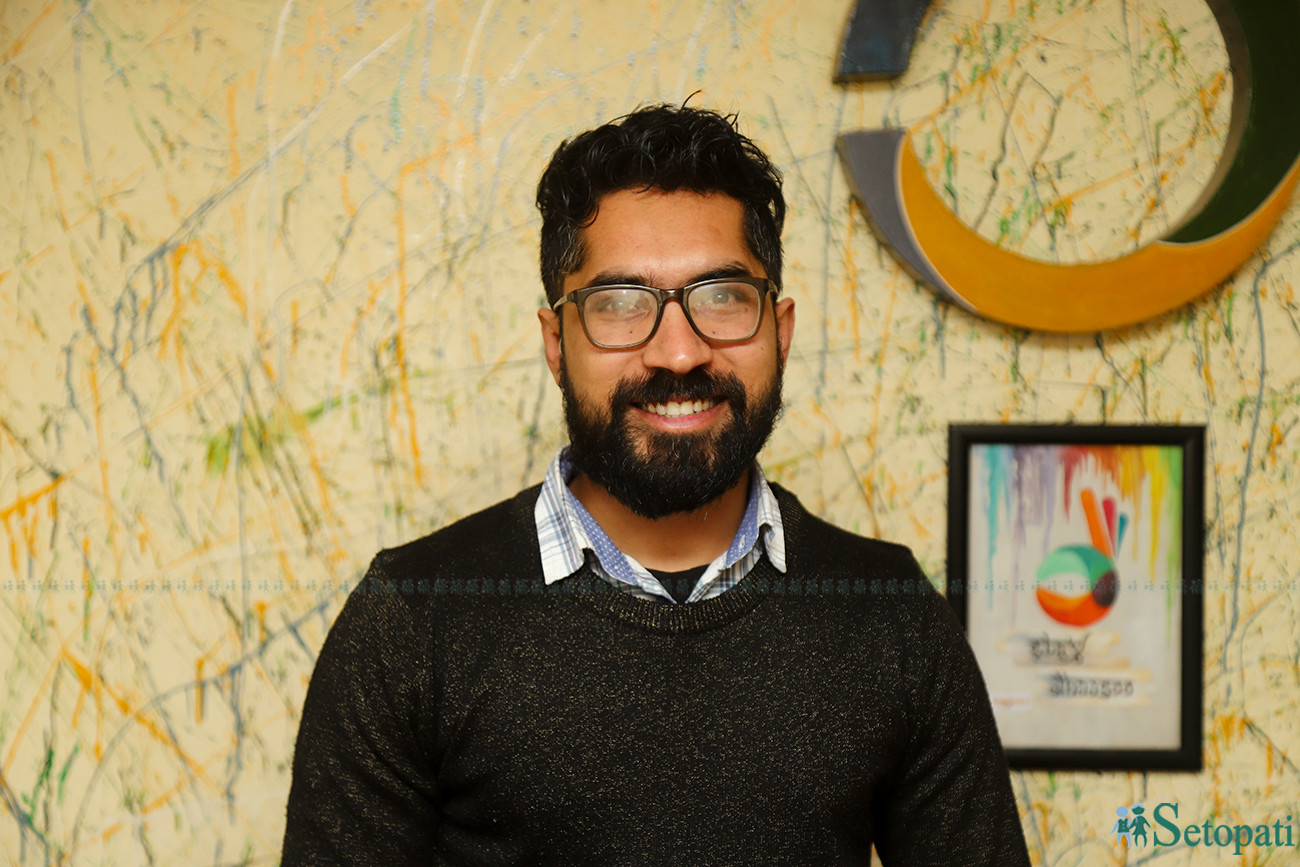 नख्खुका नितेश शर्माले एक दिन 'ज्याक ड्यानियल्स'को बोतल ओल्टाइपल्टाइ नियाले र सोचे- आधा लिटरकै तीन हजार रूपैयाँभन्दा बढी पर्ने मदिरा। महँगोमा किनेको, रित्तिएपछि कवाडीवालाले दुई–पाँच रुपैयाँमा लैजान्छ। यो बोतललाई केही उपयोग गर्न सकिन्न?
उनको 'केही गर्न सकिन्न' प्रश्न बोतलकै रूपमा पुनः प्रयोगमा ल्याउने विषय मात्र थिएन। बोतलबाट अर्कै सामान बनाएर प्रयोग गर्न सकिन्छ कि भन्ने थियो। 'अपसाइकल' कसरी गर्ने भनेर सुरूमा अलमलिएका नितेशले यसलाई 'ल्याम्प' रूप दिने सोचे।
बोतलमाथि बत्ती जोडे, त्यसमा ल्याम्पमाथि राखिने छानो हाले। झन्डै पन्ध्र दिन लगाएर बनाएको ल्याम्प नितेशले 'हाम्रो बजार–अनलाइन स्टोर' मा राखे। केही दिनमै एक हजार एक सय रूपैयाँमा उनले घरैबाट बोतल-ल्याम्प बेचे।
पहिलो प्रयासमै मीठो स्वाद चाख्दा उनको हौसला उक्सियो, 'बोतल-ल्याम्प त्यति चाँडो बिक्ला भन्ने सोचेकै थिइनँ। पाँच रूपैयाँमा जाने सामानमा मिहिनेत र अलिकति लगानी गर्दा राम्रो कमाइ भयो।'
'अपसाइकल'को पहिलो कामले दिएको कमाइमा नितेश सन्तुष्ट थिए। अनि २०७२ को मध्यतिर एक लाख रूपैयाँ लगानी गरी अपसाइकल कम्पनी खोले- धासू डिल्स।
'धासू' शब्द युवामाझ प्रख्यात छ जसको अर्थ 'बब्बाल' (निकै राम्रो) भन्ने लाग्छ।
'लोगो अगाडि नै डिजाइन गरिसकेको थिएँ। त्यहीअनुसार नाम खोज्दै थिएँ,' नितेशले साथी सुमनलाई सम्झिँदै भने, 'साथीसँग सल्लाह लिँदा सुमनले धासू शब्द निकाल्यो। मनपरिहाल्यो।'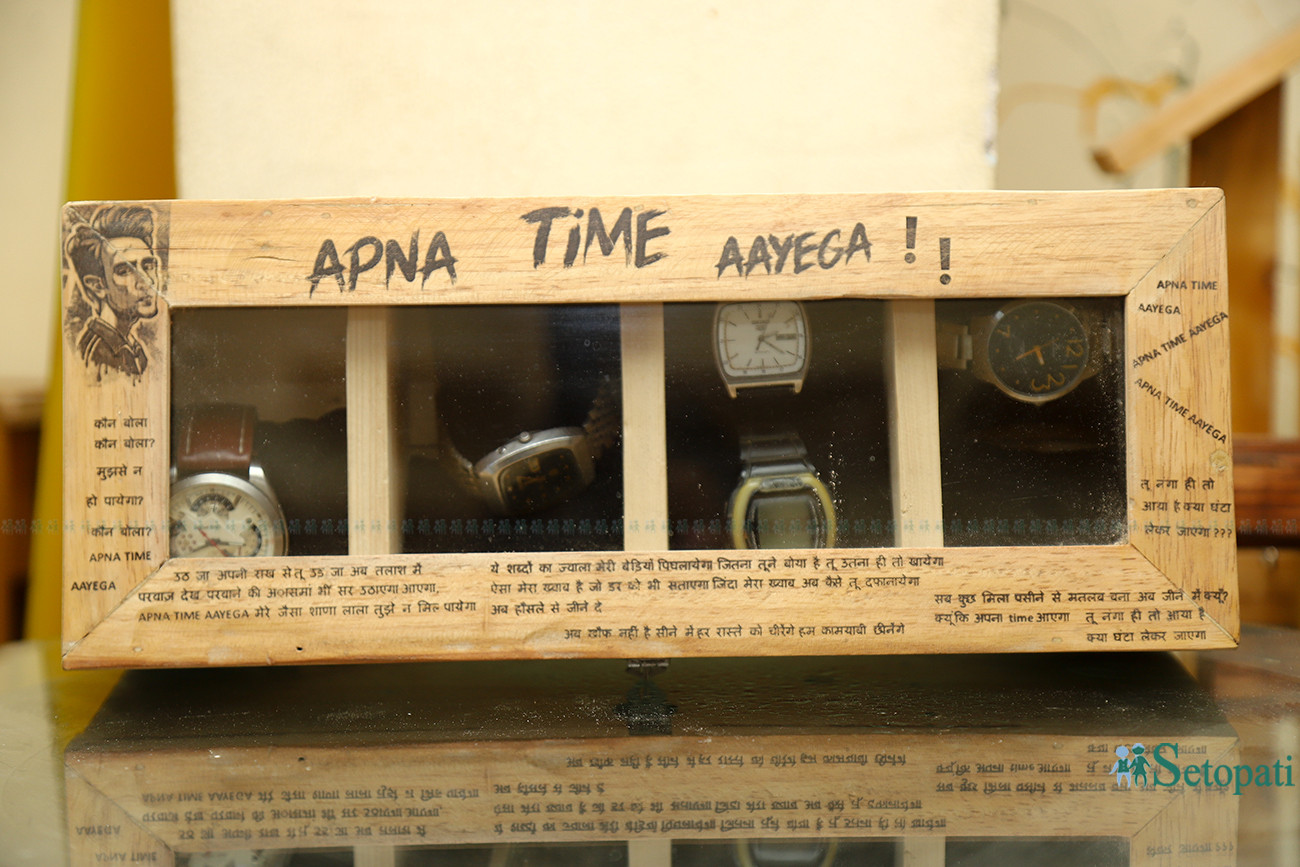 धासूले सवारीसाधनका पाटपूर्जा, टायर, सिसा, फ्लेक्स, विद्युतीय फोहोर, धातुजन्य वस्तु, प्यालेट (मुख्यतया विदेशबाट सामान ल्याइएका काठका बाकस) लगायत थुप्रै प्रयोग भइसकेका चिजबाट नयाँ-नयाँ सामान बनाउँछ।
टायरबाट स्पिकर र हात धुने बेसिन, बोतलबाट हुक्का तान्ने भाँडा, बाँस प्रयोग गरी बत्ती, पुरानो गाडीको सोफा, प्यालेटका फर्निचर, सजावट सामग्री जस्ता नयाँ सामान नितेशले बनाएका छन्। यीबाहेक काठका झुम्का, बाकस, कि-रिङ, नेमप्लेट, गमला पनि छन्।
नितेशले धासूमार्फत सामान बनाएर बेच्ने मात्र होइन, कुनै अफिस वा क्याफेको पूरा साजसज्जा पनि जिम्मा लिन्छन्। उनले गरेको राम्रो काममध्ये एक हो बखुन्डोलको क्याफे टेरिस क्यापिचिनोको साजसज्जा।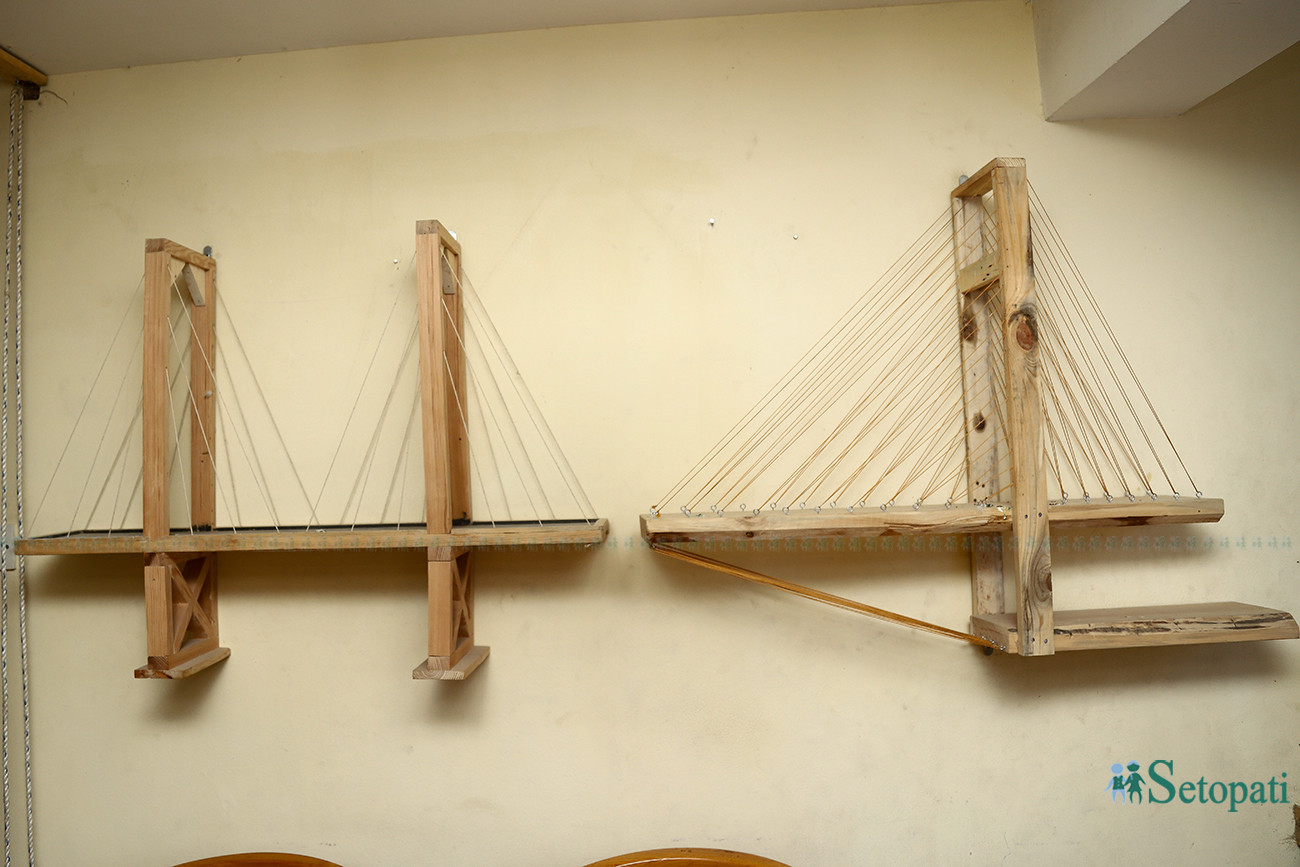 नितेशका अनुसार यहाँका फर्निचरदेखि सबै 'सेटअप' धासूले गरेको छ। त्यस्तै फोर्ड मोटर कम्पनीको थापाथली सोरूममा कारको अघिल्लो भागलाई सोफा रूप दिएका छन्।
'थुप्रै होटल, क्याफे, रेस्टुरेन्ट र अफिस हामीले सजाएका छौं,' ३१ वर्षीय नितेश भन्छन्, 'कलम राख्ने भाँडोदेखि टिस्यु बाकससम्म उपलब्ध गराएका छौं।'
धासूमा बन्ने प्रायः सामानका लक्षित ग्राहक गृहिणी हुन्। नितेश विश्वास छ- घरमुलीले चाहे घरमा सामान भित्रिन्छ। भान्सादेखि बेडरुमसम्मका सामान धासूले अपसाइकल गरेरै बनाउनसक्ने उनी बताउँछन्।
ललितपुर, बखुन्डोलमा रहेको धासू डिल्सले ९५ प्रतिशत सामान ग्राहककै फर्माइसअनुसार बनाउँछ। अहिलेसम्म ६०० बढी डिजाइनका सामान बनिसकेका छन्।
नितेशको यहाँसम्मको यात्रा भने नामझैं धासू थिएन।
उनले भारतबाट 'होटल व्यवस्थापन' पढेका हुन्। खाना पकाउन मन लाग्ने भएकाले यो विषय रोजेको उनी बताउँछन्। पढाइक्रममा ताज होटलमा प्रशिक्षार्थी रहेका उनी पछि गुरगाउँको पुलमन होटलको 'फ्रन्ट डेस्क'मा पुगे। १८ महिनाको नियुक्ति थियो, नौ महिनामै छाडे।
'फ्रन्ट डेस्क मेरा लागि बनेजस्तो लागेन,' उनले भने, 'बरु सेल्सको काममा लाग्ने सोचेँ। तर पढाइ र अनुभव थिएन।'
निकै ठाउँबाट अस्वीकृति झेल्नुपरेको किस्सामा जोड्छन्, 'अन्तमा एउटा कम्पनीमा काम पाएँ। सेल्स एजेन्टबाट सुरू गरेर म्यानेजरसम्म भएँ।'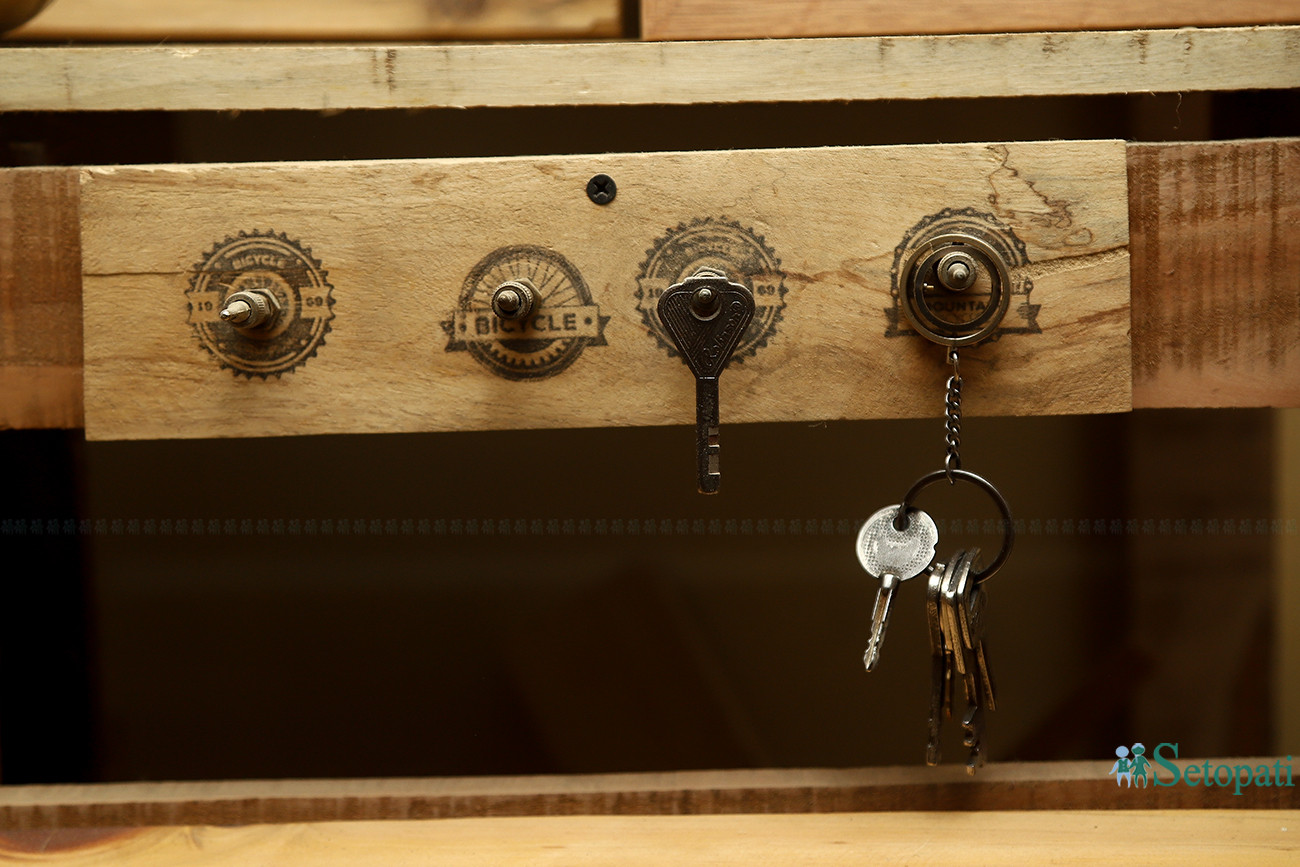 पछि उनलाई परिवारले नेपाल फर्कन आग्रह गरे। पढाइ पनि सकिसकेकाले उनी २०७० सालमा फर्किए। नितेशलाई यहाँ पनि जागिरका लागि संघर्ष गर्नुपरेको थियो, 'भारत र नेपालमा काम फरक हुन्छ भन्दै थोरै तलबमा काम लगाउन खोज्थे। पछि काकाले लिक्वर स्टोरमा काम लगाइदिनुभयो।'
मदिरा स्टोरमा व्यापार-विकास प्रबन्धक रहेका उनले नौ महिना त्यहीँ बिताए। पछि 'दराज–अनलाइन सपिङ' मा सेल्स प्रमुखका रूपमा काम गरे।
विभिन्न जागिरको अनुभव सुनाउँछन् उनी, 'सबै काम अरुकै हिसाबमा गर्दा आफ्नोपन महशुस हुन्थेन।'
'बोतल-ल्याम्प बिक्री भएपछि अरूले यस्ता सामान के-के बनाएका होलान् भन्दै गुगल गरेँ। युट्युब हेरेँ। नेपाली बजारमा अपसाइकलप्रति धेरै चासो भेटिनँ,' उनले धासूको विगत सुनाए।
अनि उनलाई के चाहियो !
सेल्स प्रमुखको जागिर छाडे। कागज, काठ लगायत सीमित सामान मात्र पुनः प्रयोग भइरहेका समयमा नितेशले विद्युतीय, अटोमोबायल्स र धातुजन्य फोहोर अपसाइकल गर्ने सुरसार कसे।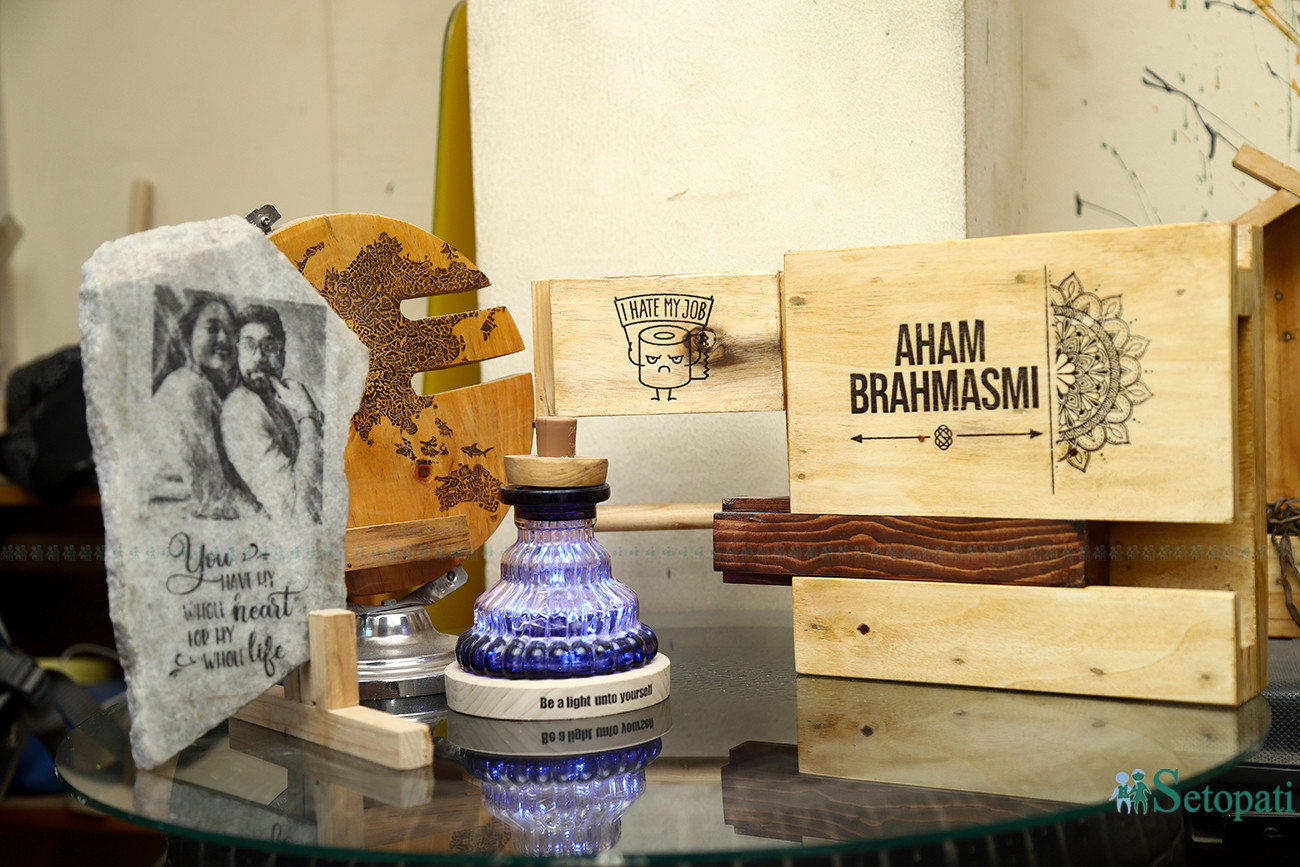 उनको सुरसारमा धेरै रिसाए। पढे-लेखेको, घरको जेठो सन्तान, जागिर छाडेर यो काममा जुट्लान् भन्ने परिवारले सोचेकै थिएनन्।
'जागिर छाडेर नयाँ क्षेत्रमा हात हाल्नु जोखिम हो। राम्रो काम छाडेर कवाडीवालाको काम गरेको भन्दै चिनेकाहरू रिसाउनुहुन्थ्यो,' समाजमा नगनिने काममा लागेको भन्दै परिवार रिसाएको सम्झिँदै भने, 'पागल भइस्? ढंगको काम गर्न जा भन्नुहुन्थ्यो।'
नितेशले कसैको कुरा सुनेनन्, मनको आवाज पछ्याए।
के-कस्ता सामान अपसाइकल गर्न सकिन्छ भनेर बुझ्न ६ महिना अध्ययन गरे रे। भन्छन्, 'सबै काम परीक्षण हो। जति डुल्यो, उति नयाँ सामान फेला पर्छ। अपसाइकल गर्न रमाइलो हुन्छ।'
जागिरबाट सिधै रचनात्मक काममा आउँदा उनको मनको शान्ति उक्लिँदै थियो, व्यवसाय भने ओरालो लागिरहेको।
'पहिलो दुई वर्ष त कामदारकै भरमा काम गरेँ। पछि मात्र बुझेँ, यो त होइन मैले खोजेको,' उनले भने, 'अनि आफैं कार्पेन्टरको काम र डिजाइनिङ सिकेँ। बल्ल सहज भयो।'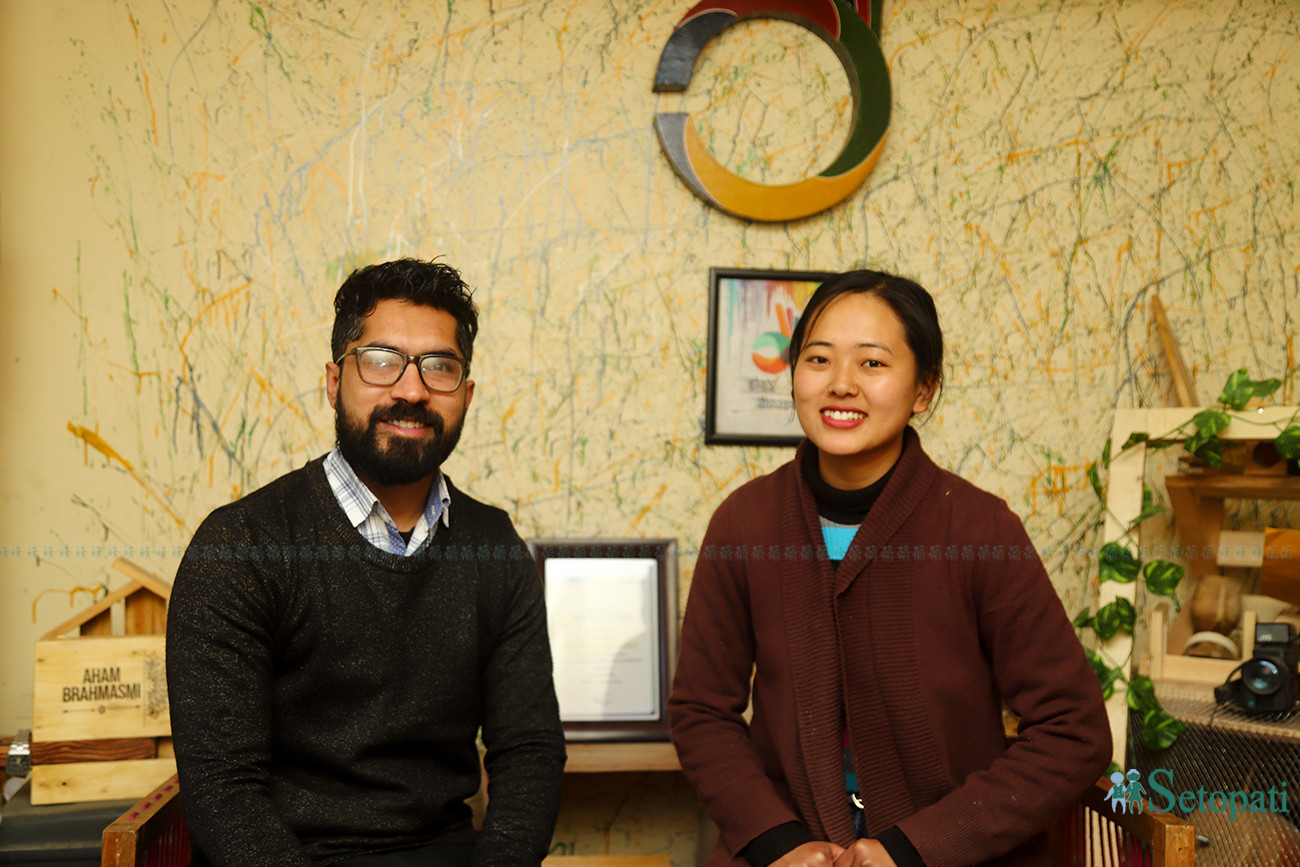 नितेशलाई कलाकारिता मनपर्छ। अपसाइकल गरिने प्रायः सामान आफैं डिजाइन गर्छन्। धासूको सामाजिक सञ्जाल र बजार २३ वर्षीया अलिशा राईले हेर्छिन् भने सामान बनाउन कामदार छन्।
'गो ग्रिन'मा विश्वास राख्ने उनी भन्छन्, 'फोहोर र कवाड मानिने वस्तुबाट पनि राम्रा–राम्रा उपयोगी सामान बनाउन सकिन्छ भन्ने बुझाउनुछ मैले।'
अपसाइकलको काम सहज छैन। सामान (कवाड) खोज्न नयाँ-नयाँ कवाडखाना पुग्नुपर्छ। सामान बनाउन निकै मिहिनेत लाग्छ। तर उनी यसैमा खुसी छन्।
अचेल उनको कामको प्रशंसा हुन थालेको छ, 'धेरैले मेरो काम प्रशंसा गर्नुहुन्छ। एक दुईजनाको नकारात्मक प्रतिक्रियाले मलाई फरक पार्दैन। सुधार्नुपर्ने भए स्वीकार्छु।'
नितेश धासूलाई सिकाइको थलो पनि बनाउन चाहन्छन्। आगामी दस वर्षमा धासूबाट 'वर्कसप' सञ्चालन गर्ने योजना बुन्दैछन्।
'मान्छेलाई फोहोर र कवाडको महत्व बुझाउनै भए पनि यो काम गर्न जरुरी छ,' हरेक दिन नख्खु-बखुन्डोल साइकलमै आउजाउ गर्ने नितेशले भने।
(यो लेख सेतोपाटीमा पहिलो पटक २०७६ माघ २९ गते प्रकाशित थियो।)
सबै तस्बिरः निशा भण्डारी/सेतोपाटी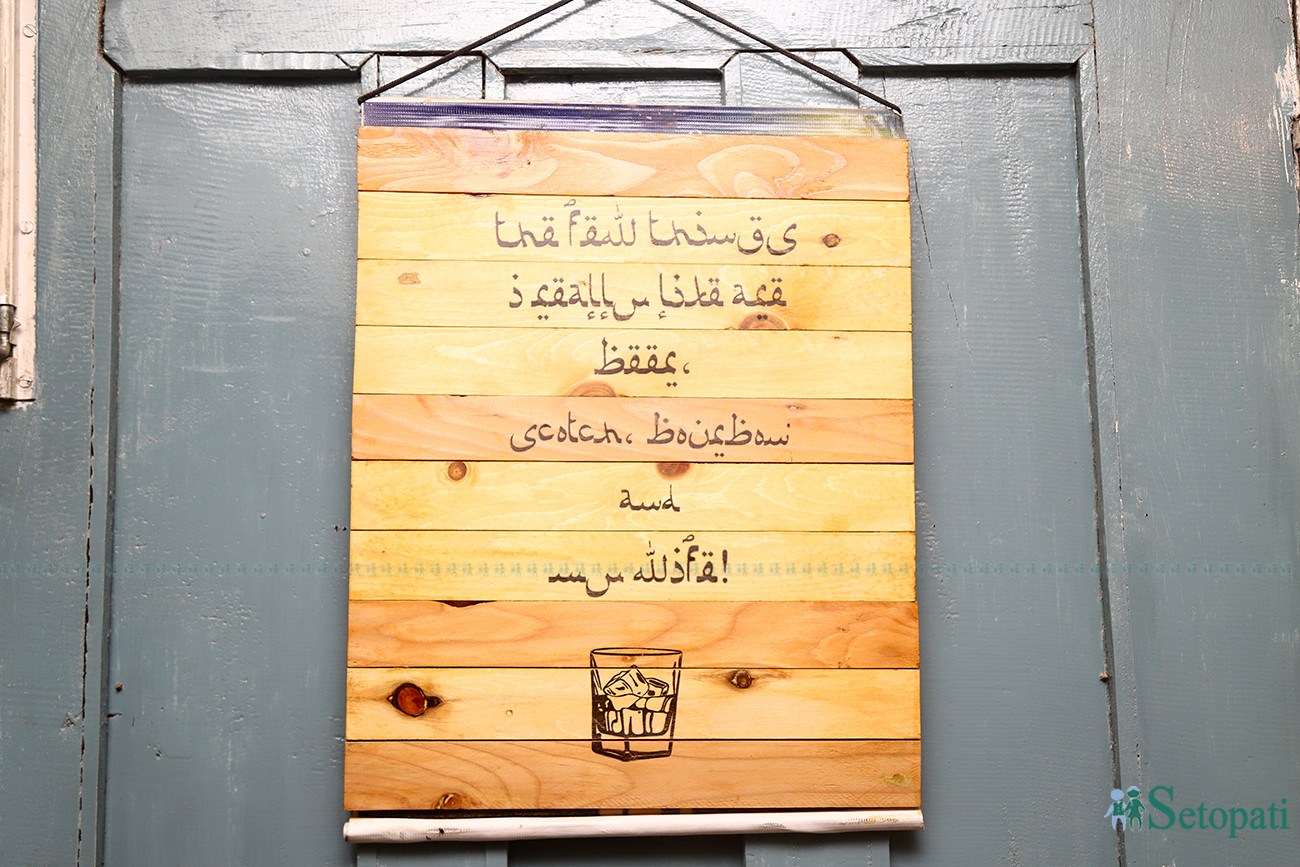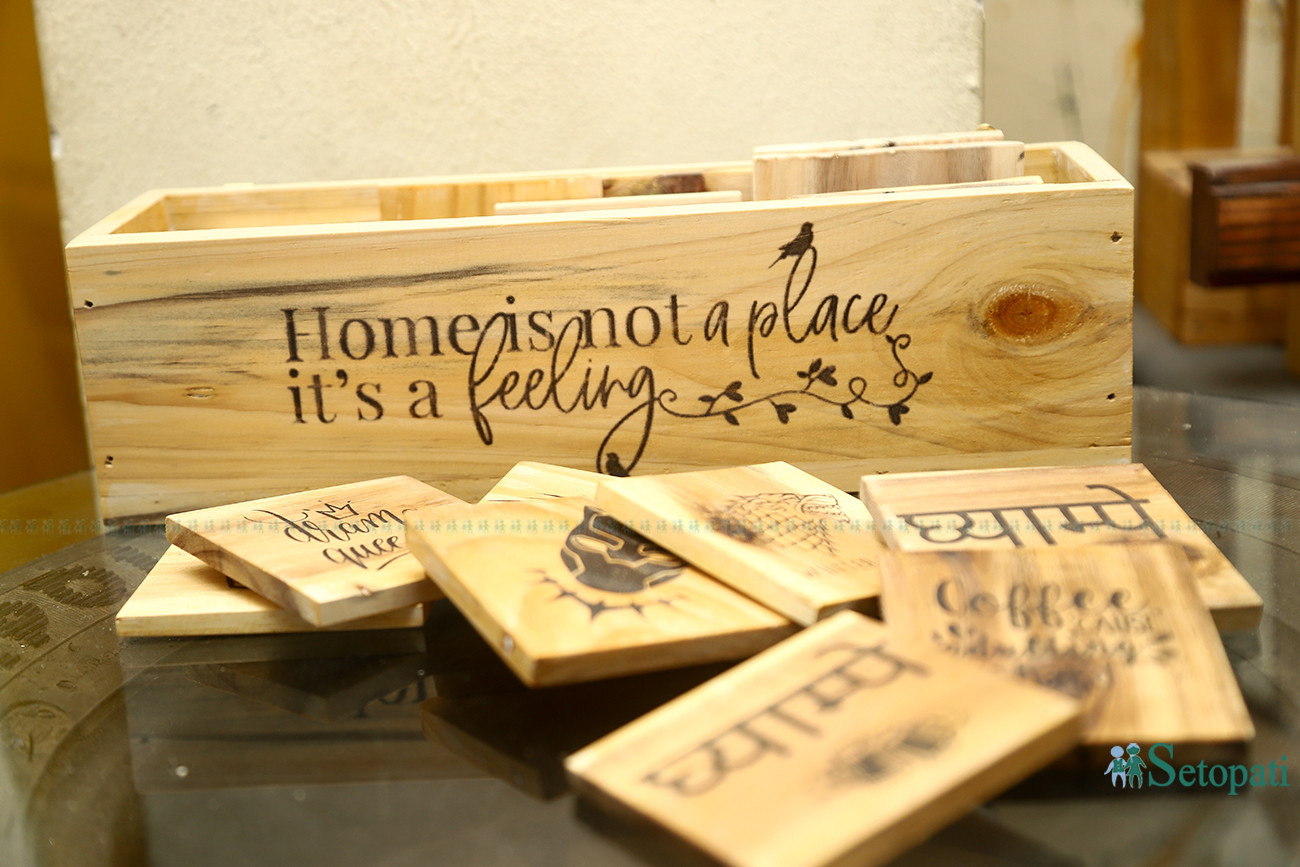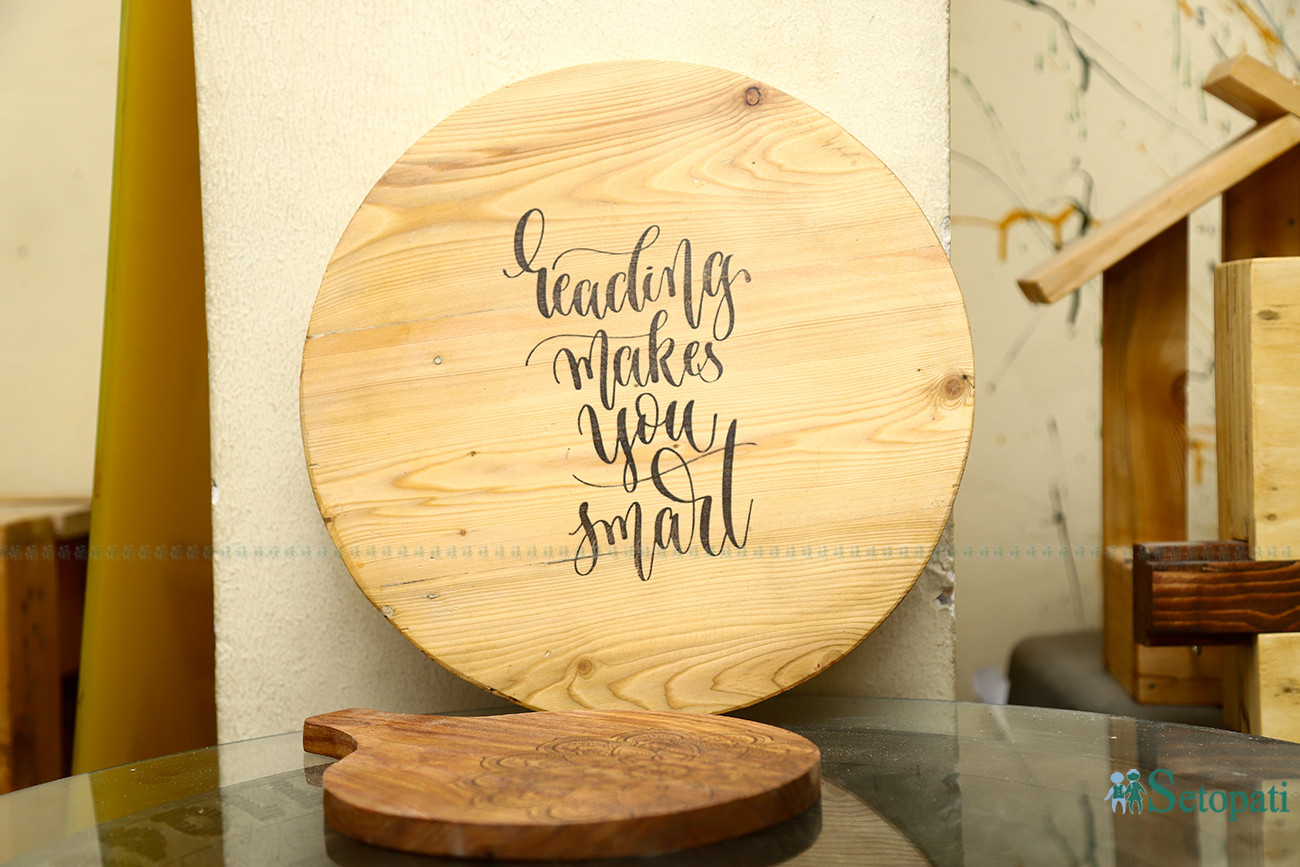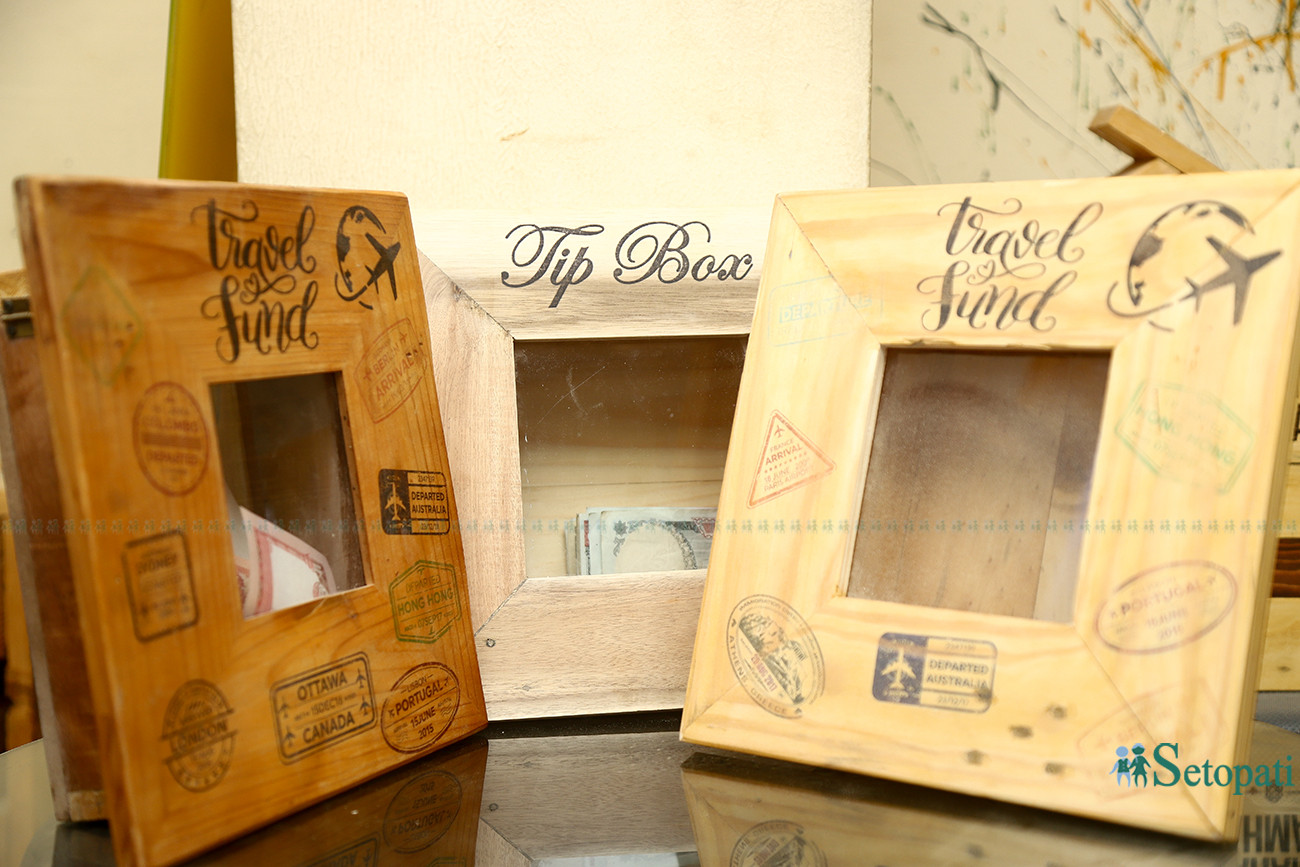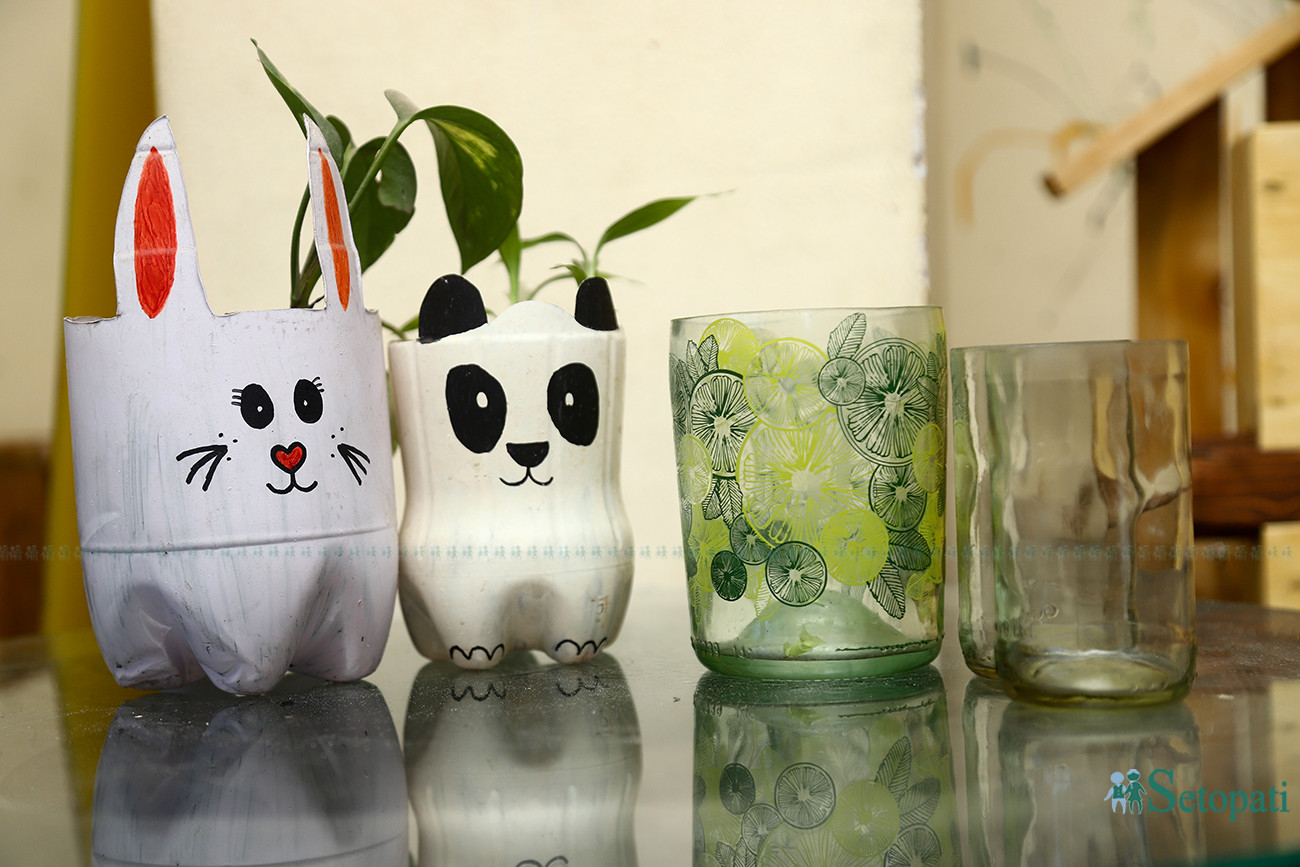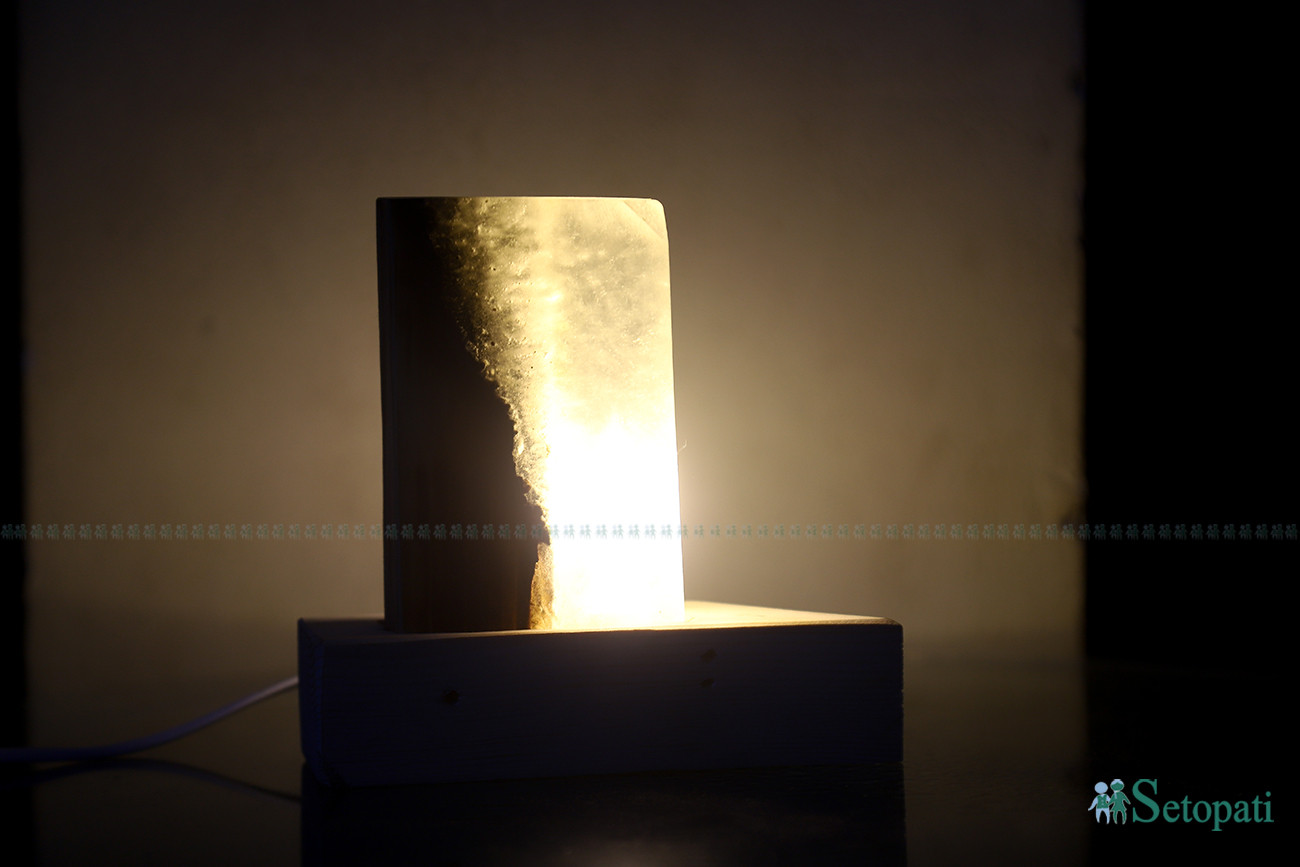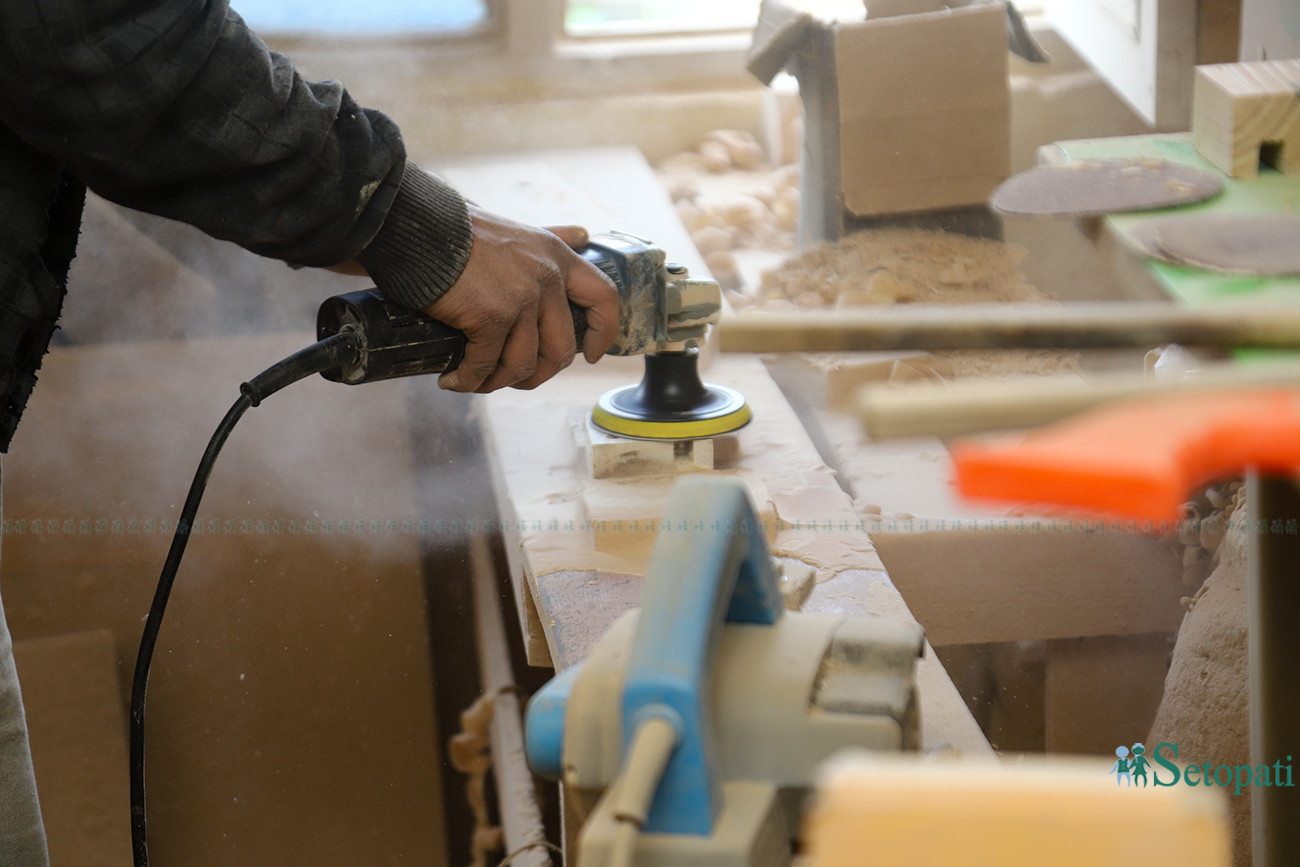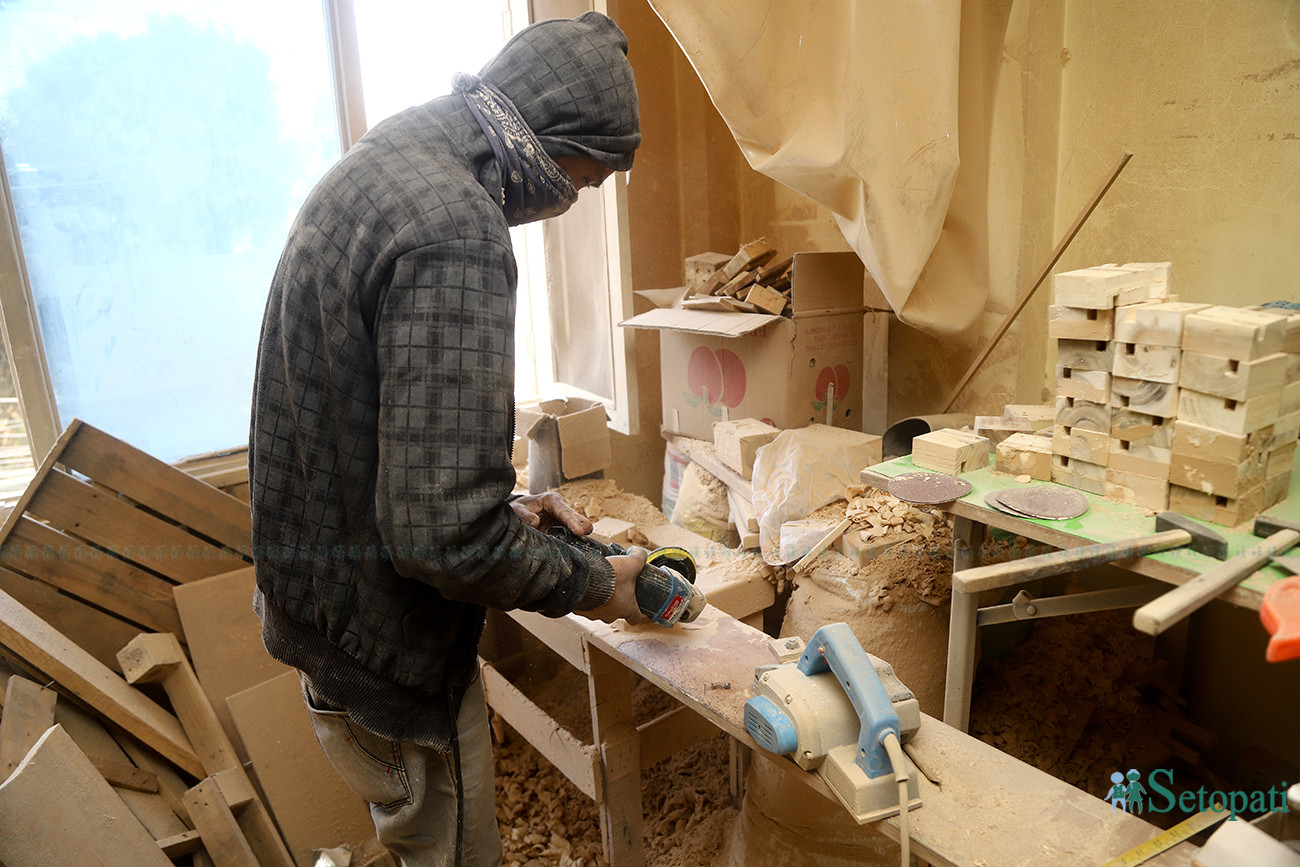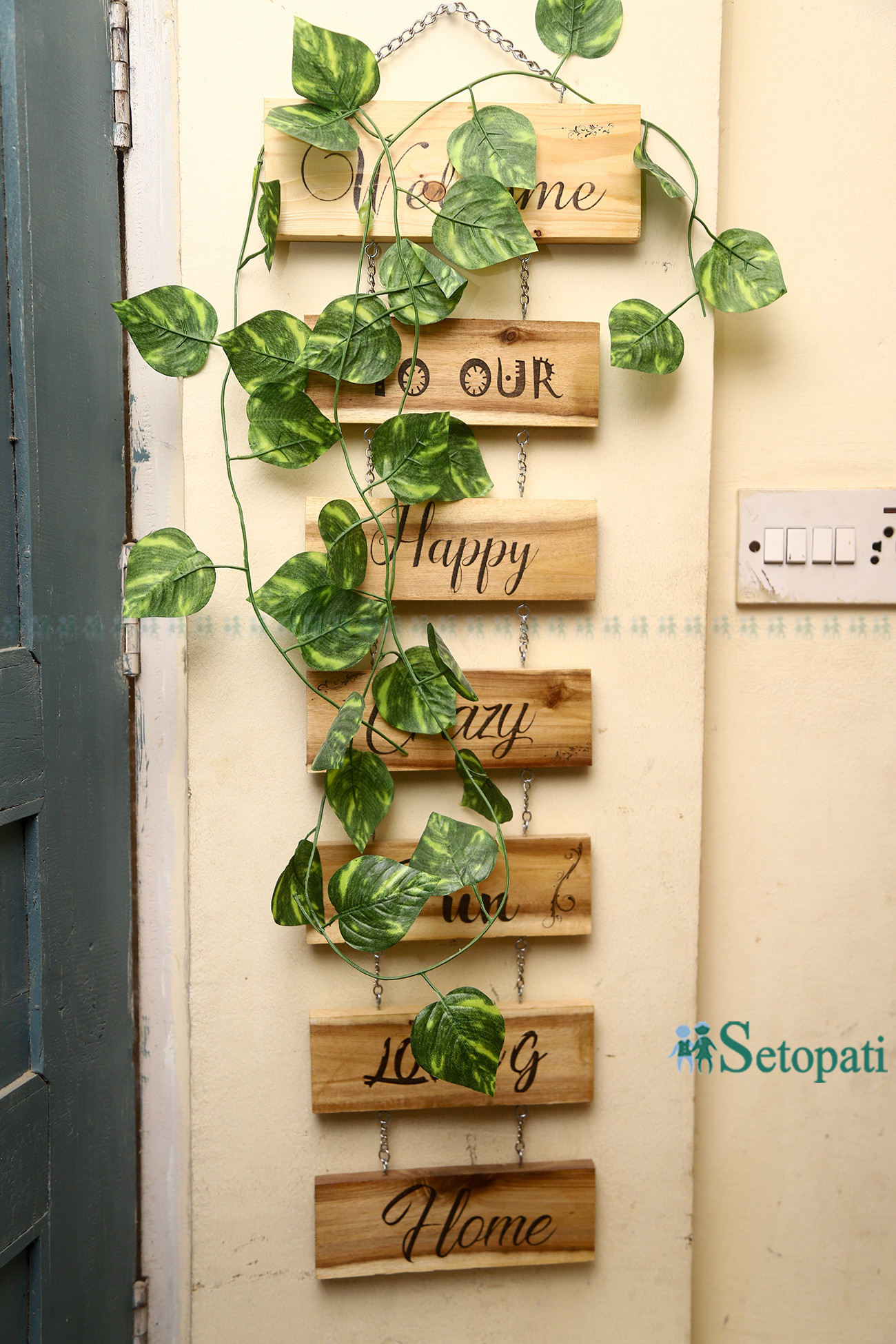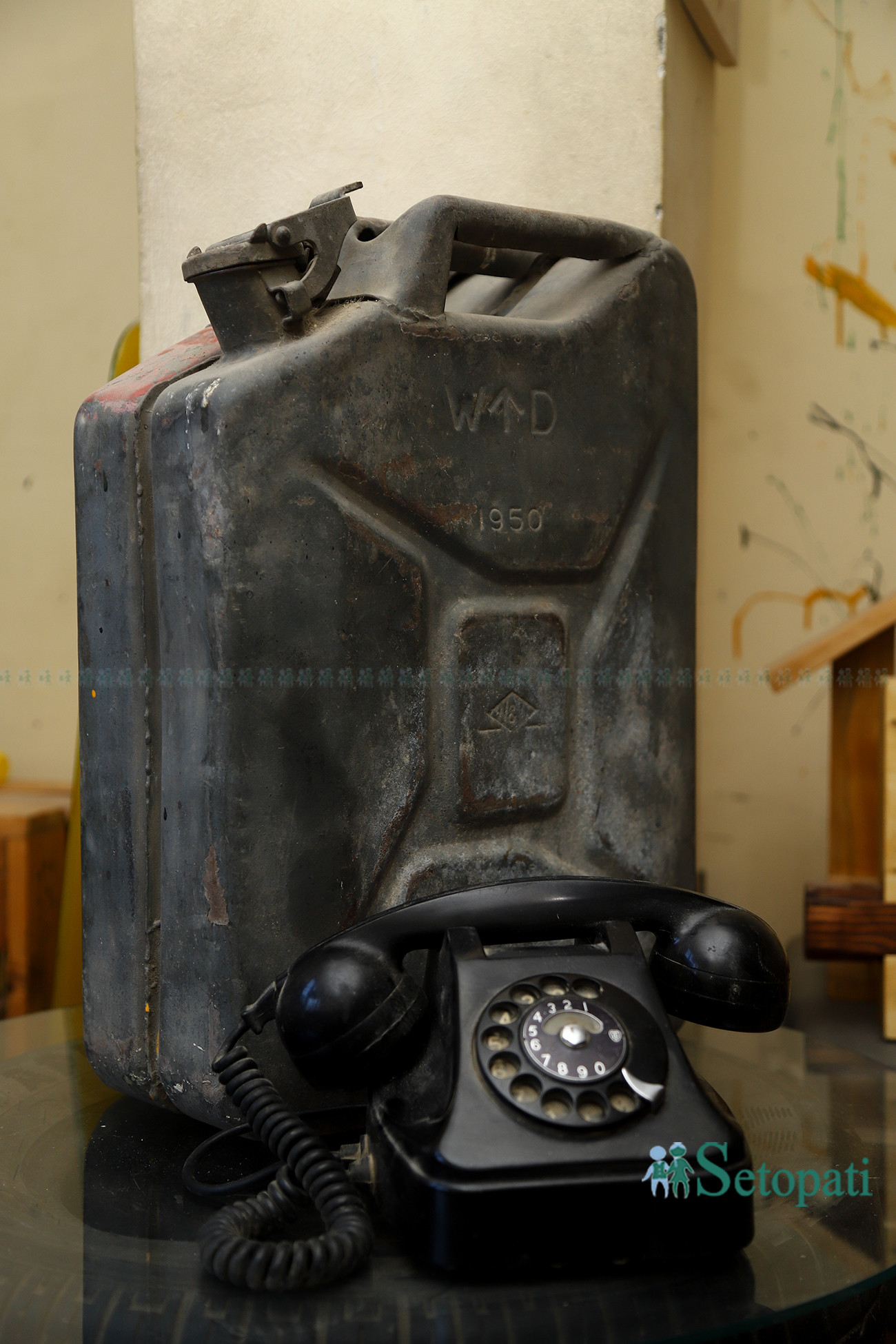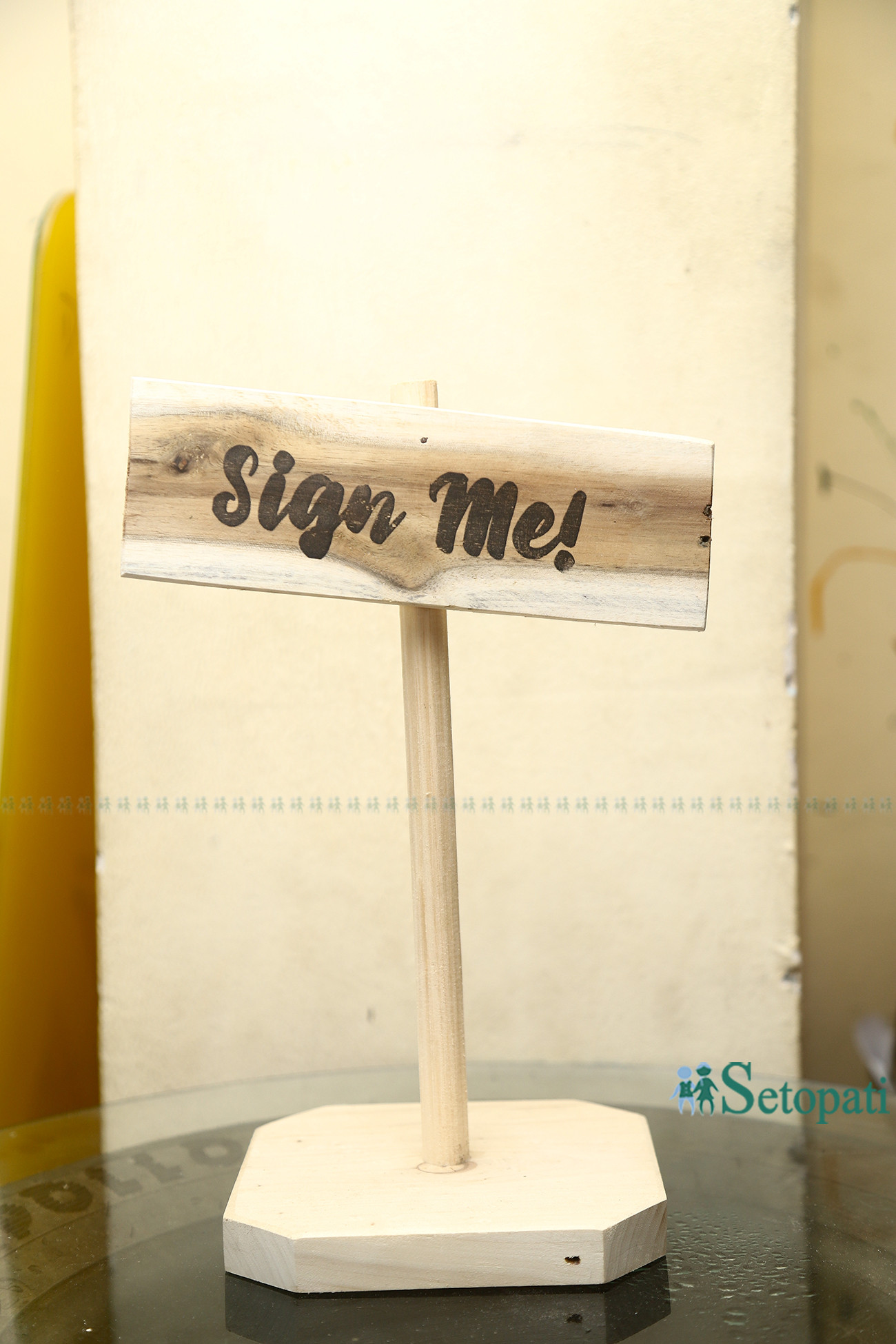 धासू डिल्सलाई उनीहरूको फेसबुक पेज वा फोन नम्बर ९८१८०८३६४३ मा सम्पर्क गर्न सकिन्छ।
Kantipur- Sukrabar
ECS Nepal
GET READY FOR UPCYCLING!
FEATURESISSUE 217 DEC, 2019Text by Prashant Shrestha

It was a family gathering (you know how relatives go after you, your life and your future in those family events). Fate had decreed that Nitesh Sharma had to endure it all for the entire evening. But his prospects were not so grim. He was working in the hotel business. Sixteen hours shifts were common to him. He made a decent living from his vocation but, somewhere deep down, he felt empty. As he sat down for a conversation with his uncle, he had no idea that he was about to receive some life-changing advice. The conversation turned towards garbage collecting businesses. We normally assume them to be the poorest of the poor. It was eye-opening when his uncle pointed out that these businesses were in fact incredibly lucrative. It gave Nitesh an idea; an idea no one believed in, but he went for it anyway.

After having studied in India for seven and half years, Nitesh returned to Nepal in 2013 with a degree in Hotel Management. From then on, he shuffled through several jobs. He worked for a liquor company, event organizing firm, magazine, call center, and online shopping business. But he was searching for more; he was hungry for success. Following the opportune conversation with his uncle, he looked into how garbage could be reused. He created a lamp out of a Jack Daniel's whiskey bottle and lokta paper. He put it up for sale online. It took him twenty days to find a buyer. The buyer came to him and asked how much he would be willing to sell it for. His mind went blank. He could not think of a number. He just replied, "Pay me whatever you want."

Having gained sufficient encouragement to follow his burning passion, Nitesh left his job three months later. For the next six months, he completely devoted himself to researching what other creations could be made out of waste materials. He came up with 25 different items. On looking back, his job experiences came in handy before he embarked on his own venture. From working for hotels, he learnt how much waste hotels were creating. By working for an online retail business, he found out how he could market his products online. And, finally, his job experience in the liquor business helped him understand the startling absence of a method for the disposal or reuse of expensive, imported liquor bottles in Nepal. He knew he wanted to become an entrepreneur. He said, "They say making money is hard. I wanted to know how hard it is." So, he took up the challenge.

Nitesh went on to establish his company, Dhaasoo. He doesn't use the word 'recycling;' he terms it 'upcycling.' Recycling means using waste materials again, either in the same manner as before or for an item of lesser quality, whereas upcycling refers to breathing new life to these materials by reinventing them in a different form and adding value to them. Take the example of his Jack Daniels lamp: he took the bottle that had been thrown away and made it into a new product with a greater value. Apart from branded liquor bottles, he works with auto parts, tires, wood, electronic items, glass, briefcases, discarded stone such as granite and marble, bamboo, and so on. He comes up with new, creative ideas and ends up crafting not just a product but a work of art in itself. At present, he has 600 different items in stock. Each is one of a kind. When it comes to mass production of his creations, he explains, "What is the probability of finding the exact same waste item to produce a hundred of the same product?"



As a child, Nitesh would open up gadgets and, at times, end up destroying them; he also dabbled in fine art. After graduating from high school, he wanted to take humanities but his parents talked him out of it. He believes he has spent half of his life doing what society wanted him to do; in the end, he decided he was fed up with meeting others' expectations and wanted to make money doing what he truly loves.

Sometimes customers come searching for him and ask for specific items to be made. So it's not just him generating ideas but also buyers who provide them to him. When he created his business in 2015, no one else was doing what he was doing in Nepal. There weren't that many recyclers in this country, let alone upcyclers, and what we've learned suggests that he is one of the pioneers in this field. This market is, in fact, expanding, and now, six or seven related companies have sprung up but, as he says, "We were the first!" Despite the emergence of many copycats, he remains undaunted. He claims, "You can try to copy the design but you can never copy the creative process or the inspiration behind my creations."

I was curious about how he acquires the materials for upcycling and Nitesh explained that there are three main sources. First, he goes hunting for materials he needs at factories and scrap yards. He is in contact with a few recyclers who supply him with materials that have some potential. Secondly, people bring him their old items to have them re-designed. Finally, factories, offices and restaurants donate what they cannot use anymore. Sometimes, he ends up finding "gold," like the time he found a jerrycan from the 50s. There are times when he finds items that are in fact in good condition and only need a little repairing or some paint. People have the habit of throwing away valuable things; not just material ones but, philosophically speaking, friendships and family ties. Though he may not be able to mend those bonds he certainly can restore a fallen object to its former glory.
However, his enterprise has not been a piece of cake.

There have been many challenges, particularly in finding the right people to collaborate with. Nitesh has had no formal training for his craft, and it would have been a lot easier if there were workshops or seminars on upcycling which he could take or have his staff attend. Another major deterrent is the unavailability of the right tools. The tools he sees on YouTube are hard to come by in Nepal. So he has to innovate there too. Some people in society view his field of work as not having a great reputation as it involves working with waste. In the developed world, recycling is a major trend but Nepali society still has a negative attitude towards recyclers, instead of respect: look at how much they are helping the environment!
Sometimes there's also the frustration that he is not able to charge the prices that his works deserve. Right now, he is matching the prices of the ready-made products in the market. If a mass-produced lamp sells for, let's say, Rs. 1500, he sells his creation for a similar amount. But his products are one of a kind and more akin to a piece of art; so much creativity goes into those creations. They should sell at much higher prices. However, he cannot be adamant when it comes to pricing, he has to sustain his business. It's especially difficult when people bargain with him over the prices. After all, he has put in so much into making those items. Sometimes, he gets attached to his creations and rightly so!

When asked about his best work, he showed us a bottle with a lock inside. When you pull it, the lock gets lodged around the neck of the bottle from the inside. Now, the question is, how did he get it in? It fascinated me endlessly. One of his most expensive projects was creating a desk out of a car. (The car had been in an accident.) It took him a year to make. Wouldn't it be so cool to have a desk with a car bonnet sticking out of the other end? I would show it off to all my visitors and guests; truly Instagram worthy. Nitesh is a trailblazer in upcycling in Nepal and though it might take some time for his business to take off in a huge way, with his fantastically creative mind there's no doubt that it will. There are treasures in the most unlikely places, including dumpsters, and in the most unlikely people. It takes an astute judge of character to see the real value of people and, in this case, of things.
Nepali Times
Blinc Ventures
Dhaasoo Deals- Turning Waste Into Useful Artwork
By Team Blincventures.com -July 13, 20190652 Share
It takes someone with a genuine heart to see good in broken things and try and fix them up. As such, Nitesh Sharma, the founder of Dhaasoo Deals, collects materials that have been worn out or damaged and upcycles them into something unique and usable.
At Dhaasoo Deals Pvt. Ltd, you can find a World War II Gasoline Can with a mark of British Gorkha Nepal 1950, first-generation I-pad, a black and white TV, and so much more. Follow along to find out their full story.
1. What is the social problem that you are trying to solve? What social change do you see your product/service bring in society?
At Dhassoo, we focus on three major areas: reuse, upcycle and create. We reuse the scraps, upcycle them in a way that they can be used on a daily basis and create something useful out of waste. As Kathmandu faces massive pollution and excess waste-producing activities, we are trying to reduce this through waste recycling and management. Furthermore, we're motivated to educate people about waste management and bring down the number of imports by prolonging the products' life.
2. Tell me about your journey of starting this venture? When did it start?
After completing my undergrad in India, I worked in different jobs and realized that I wanted to do something unique and creative. Accordingly, I had an epiphany one night at a family dinner while discussing how lucrative waste and recycling industry is. It really struck me when I thought about the most expensive cognac bottle that costs 5.5 Lakhs and goes to waste after the liquor is consumed. "What if I could prolong the life of that bottle?", I thought to myself and that's when it clicked. That's when Dhaasoo was conceived in the year 2015.
The main idea is to create something usable out of discarded products so that people can reuse them and not add to the cycle of high import. Today, we provide all ranges of products from lighting to furniture and décor to a daily utility that can be used anywhere.
3. Who are your target customers?
Our target customers include students, home-makers, restaurant-owners, corporate houses, start-ups, and basically everyone who is a conscious spender. Similarly, we target people who know about up-cycling and are looking for unique products.
4. What is the legal status of your company?
It has been registered as a Private Ltd. Company in September 2015 with my brother as a co-founder. While I look after the operations, he takes care of the back-end process of the business.
5. What challenges did you face while starting the company and what are the challenges you are facing right now?
One of the major challenges that we faced was in terms of educating people about up- Cycling as many customers mistook us for interior designers. Another challenge came in terms of how people perceived our products. They expected our products to be as good as new. Similarly, many were reluctant to accept products that had once been classified as someone's scrap.
6. How did you overcome your challenges?
We tackled our challenges by strategically positioning our products in the market as something unique with social values. We advocated ourselves as up-cyclers over recyclers. To do so, we visited many colleges to give guest lectures, attended several exhibitions, and interacted on personal levels to educate the market about what up-cycling is. Similarly, we marketed the word 'up-cycling', so that our paying customers would not be hesitant about buying products initially made out of scrap.
Furthermore, we involved customers in the designing and production process by constantly interacting with them. We also made them feel like an active contributor to environmental conservation and waste management. Accordingly, our products were able to touch their sentiments.
7. What is the business model for self-sufficiency or profit-making model?
We're working on a profit-making model. We collect discarded products from households to organized institutions such as embassies and government offices. We've also tied-up with scrap yards to receive the raw materials. In this way, our business model is to: Collect. Preserve. Create. Sell.
We offer three models to our customers: they can either choose to buy what we create, bring their own raw materials and collaborate with us or come up with an idea and we create it for them.
8. What is the scalability and market potential of your products?
The scalability and market potential of Dhaasoo is very high as we offer unique and customized products. We haven't yet tapped 1% each of the three districts and we're still surviving. So, if we're to tap even 1% of each 75 districts, we'd be making a lot of profits. In terms of raw materials, we have that in plenty so that's not a problem at all.
9. How much investment does it take to build a company like yours?
I would say businesses are not made on investments. You can start a business with a small investment to create products with value. Meanwhile, the revenue from sales can be injected back into the business until you can start drawing profits. I've been doing the same for the past three years into operations.
For more information about Dhaasoo Deals, contact Nitesh Sharma at dhaasoonepal@gmail.com
Interviewed and article by Shambhavi Singh.
Nikkei Asia
Nepalese entrepreneurs turn trash into treasure
Found objects get new lease on life, draw attention to growing waste problemDEEPAK ADHIKARI, Contributing writerNOVEMBER 18, 2018 15:00 JST
Nitesh Sharma, co-founder of Dhaasoo, at his office that doubles as a workshop in Kathmandu. (Photo by Deepak Adhikari)
KATHMANDU — Like many creative business ideas, it emerged over a bottle of beer.
One summer evening in 2015, Nitesh Sharma was discussing business ideas with his father and uncle at a family gathering in Kathmandu. Staring at the bottle of beer, Sharma wondered if he could turn it into a useful — artistic even — item instead of passing it on to the kawadiwalas, people who go door-to-door to collect waste materials such as bottles, newspapers, magazines and books.
Sharma, who had already tried his hand at several jobs in the hospitality and e-commerce sectors in India and Nepal, found an empty bottle of Jack Daniel's, a top-selling American whiskey. He turned it into an electric lamp. Though his mother wasn't impressed with his debut product, the 29-year-old sold it for 1,200 Nepalese rupees ($10).
At his office that doubles as a workshop, Sharma is surrounded by items that were once discarded but which he gave a new lease on life — a speaker made from a tire; lamps made from whiskey bottles; a table made from items as varied as shards of discarded glass and a car's wheel.
Sharma named his company Dhaasoo, from a Bollywood expression meaning awesome in Hindi. The company has produced more than 500 items from found objects. It's among a growing number of Nepali startups that are turning trash into stylish products. "If you go to a junkyard, you will find a whole lot of things that people throw away. We collect both broken parts and whole things, whatever shape they're in," he said. He once even found an iPad that was still working. "Our goal is to prolong the life of things that people consider no longer useful."
Dhaasoo's hanging chandelier made from discarded wine bottles and wood (Courtesy of Dhaasoo)
Waste management is a major problem in the Kathmandu Valley, the tri-city home to an estimated 3 million people, who generate about 1,000 tons of solid waste every day. The city's only landfill on its outskirts is already full to bursting, and officials are scrambling to find an alternative. Kathmandu's streets are often littered with uncollected trash, risking disease and spreading pollution.
The idea of recycling, already a well-established industry in the developed world, has yet to take root in Nepal, said Sumitra Amatya, former head of the Solid Waste Management Technical Support Center, a state agency. "We have been taught to deposit waste at a landfill site. I don't even call it landfill — it's just controlled dumping," she said. "The municipalities collect household waste and dump it there, but it must be segregated, recycled and reused before disposal." Startups such as Dhaasoo have demonstrated the potential, but the government needed to promote it to create a momentum, she said.
When Ojaswi Baidya, 27, and Loonibha Manandhar, 22, hit upon the idea of turning used tires into useful products, they had been participating in a 10-day camp seeking green solutions. "We discovered that brick factories use the tires to fire their kilns, which in turn contributes to the city's worsening air pollution. Political party cadres also burn tires during general strikes," Baidya said.
Tyre Treasures' Full Circle Table, made from metal and tires (Courtesy of Tyre Treasures)
Nepal has no designated areas to dispose of used glass, paper and tires. Scrap traders export them to India, but in recent years, Indian authorities have introduced strict rules, which discourage imports of discarded tires. With a 150,000-Nepalese-rupee fund from the event's organizers, Baidya and Manandhar launched Tyre Treasures and started working on their initiative.
They learned that discarded tires are plentiful in Kathmandu. With the help of local artisans, who wove fiber ropes into the tires, they created their Full Circle Table. They sold their first product for 13,500 rupees.
Today, Tyre Treasures directly employs five workers, as well as outsourcing to about 25 weavers and metal and wood craftsmen. It produces 10 types of furniture, including garden chairs, flower pots, beds for pets, and stools. Baidya recently attended training sessions for young South Asian entrepreneurs in New Delhi, organized by the American Center and the University of Texas at Austin. "We have learned a lot in the last year. We have learned lessons from what worked and what didn't. In the beginning, it was all trial and error," Baidya said.
Loonibha Manandhar, left, and Ojaswi Baidya founded Tyre Treasures in 2016 in Kathmandu. (Courtesy of Tyre Treasures)
Jamarko, a company that makes and sells recycled paper products, has been working in Nepal's recycling scene for over 15 years. Founded by two sisters in 2001, Jamarko, which means "effort" in the Nepali language, collects waste paper and turns it into paper bags, photo frames, notebooks, greeting cards and lamp shades.
Frustrated by mere sloganeering by nonprofit groups vowing to protect the environment, Aruna Lacoul and her sister Muna Shrestha decided to take matters into their own hands in 2001. The duo wanted to demonstrate that waste paper — such as magazines, file folders, envelopes and gift boxes — could not only be reused, but actually transformed into beautiful handmade products. They provided collection bins to government and nongovernment offices, but they quickly realized that transporting and sorting the paper would add to their cost. They collected waste paper from households close to their collection center.
Shrestha, a co-founder and social worker, noted that "30% of paper needs in developing countries can be met with recycled paper."
Kritica Lacoul, who runs Jamarko, a paper recycling company,points to handmade recycled greeting cards at her showroom in Kathmandu. (Photo by Deepak Adhikari)
The company has also gone through a generational shift, with Kritica Lacoul, a 34-year-old graduate in business administration, taking over the operations. She said she joined the company to continue the family's legacy. "But I was also motivated by the fact that it's an environment-friendly enterprise," she said.
At their small showroom in the posh neighborhood of Jhamsikhel, recycled notebooks, file folders and envelopes are arranged in rows. An occasional tourist drops in, but most of the customers are locals. Jamarko, which also produces products from handmade Nepalese Lokta paper, employs 10 people, mostly women trained by the company, who work at a factory on the city's eastern outskirts. "Over the years, people have become aware of the need to manage waste, but they don't know how to sort it," Kritica Lacoul said. "We had expected government offices and NGOs to provide us with raw materials and buy recycled products in return, but it didn't happen."
Amatya, the waste management expert, said big companies must take steps to reuse plastics and other materials in their consumer products. "Small ventures are doing their bit, but big companies must lead the recycling campaign if they want to contribute to society," she said.